Female Feature Friday: Emma Heim of Heim BBQ
We are back at it, bringing you another Female Feature Friday. We are so excited to be sharing a new amazing Girl Boss every week. The inspiration behind this series was to highlight the brilliant women running small businesses in an effort to inspire other women to bring their talents to the table. We can do it all, ladies!
Can we just be honest and talk about how real and inspiring this week's FFF is!? Emma Heim, of Heim BBQ, is living her dream and I absolutely LOVE this interview. I think anyone who has a passion that they long to make a career NEEDS this post in their life. I hope you enjoy!
LET'S GET DOWN TO (SMALL) BUSINESS:
Name and Occupation:
Emma Heim - Co Owner Heim Barbecue.
Briefly describe your business:
My husband Travis and I have a crazy passion and dream to bring the best BBQ possible to our city. We started in a food truck in the Near Southside of Fort Worth area, but we quickly outgrew that location and were selling out before we even opened. We found Heim's Magnolia Avenue home not long after. We have been on Magnolia Avenue for almost three years now. Recently, we opened our second location in the River District of Fort Worth. This space is massive, and right on the Trinity River.
How did Heim BBQ come about and what were you doing before its creation?
Honestly, we knew what we were meant to do. I was willing to take on the task of managing the restaurant while my husband did the cooking. We quickly discovered that running a restaurant is like second nature to us. Prior to Heim's creation, we didn't have much to our name. Travis had just gotten laid off from a security job, and I was working at a local land service company in Downtown Fort Worth. When Travis got laid off, I looked at it as an opportunity to finally focus on our barbecue dream and make it happen. While he was planning our "T&E MeatClub" pop up dinners, I was focusing on my job to ensure we still had money coming in. While hosting these monthly pop up dinners in 2014, we began to create a following. If Travis wasn't smoking meats, he was looking for propane tanks online to build a new smoker—one day, while searching for a tank, he stumbled across a food truck for lease. With just a little money and a lot of anxiety, we signed a lease and started serving Fort Worth from 201 East Hattie Street.
In Texas, BBQ is basically a religion - What makes your BBQ different?
We choose the best meats we possibly can, and we've visited the farms and ranches that we source from. We serve what's called 'Never Ever' Meat—that means that all meats we offer have never been introduced to antibiotics and were ethically raised and processed. All of our meats are Prime grade as well. We've always believed that if you're going to have family and friends over for a party, then you should serve them only the best—we take that same approach with our restaurants.
At the end of the day, we're animal lovers. We take comfort knowing that we are treating animals right, and then in return respecting the animal when we cook and eat. We believe in little to no waste, so using the entire animal is important to us. These standards help us sleep better at night, and we think it's comforting to our customers to know they are getting the highest quality meat. We're so passionate about our meat sourcing, we even trademarked the phrase 'Farm to Smoker.'
How do you keep coming up with such creative ideas?
As a company, we recognize when things aren't working for us. While hosting pop up dinners, we couldn't reach as many people as we wanted, and it was too exclusive. This led us to the food truck, which we quickly outgrew, and there was still a sense of exclusivity. At our Magnolia location, I was able to design it myself. Travis and I call it our dream restaurant, but even still, Magnolia becomes tight and crowded. My creative ideas come from recognizing and understanding issues, while also growing and changing things for the betterment of our guests. Creative, yes, but we see the demand and adjust methods in order to provide the best experience for our guests. For example, if creating better customer service requires building another location that is four times larger than your first restaurant, you do it.
Why is small business so important to you?
I grew up around a small business—my family has owned and operated a commercial cleaning company called Miner and Sons for the last 30 years. I understood hard work and putting your name on a product at a very young age. Currently, Heim Barbecue employs around 100 employees. The joy of knowing that our dream has created a way of life for people all over the metroplex is probably one of the sweetest parts of having a small business.
What was your first real job?
My first real job was retail—I worked for Neiman Marcus right out of high school. I was hired on for seasonal help around Christmas in the Designer Handbag Department and did so well that I ended up staying two years. My husband hates that I worked there because now I have some mad love for a fancy bag (or two).
What motivates you to keep going on the less than awesome days?
Recognizing that I'm in charge of a company that is changing peoples' lives. We work with some great staff members, and I feel directly responsible for them and their loved ones, so making sure I remember that during hard days is important to me.
What advice would you give to someone wanting to start their own business?
Make sure your passion is real. No one will ever care more about your business than you, because it's your creation and your life. Owning a business is hard work in and of itself, but if you don't have the passion and commitment that's needed to make it run successfully, then it will be even harder.
What's the biggest mistake you've made and what/how did you learn from it?
Make sure that the staff you hire are people you can trust. Their passion and drive doesn't have to beat yours—because this is your company and you're their teacher—but when you are at the point of hiring a leadership team, make sure they are the best possible person for the job. If you feel a pit in your gut, then keep waiting for the right person. When you find someone that sees your vision and ideas, it's truly the best feeling in the world.
What has surprised you most about running a small business?
That sometimes it's okay to let the grip go a little bit. My first several years of running my own business were extremely stressful. One day, I got sick and wasn't able to come in to the restaurant—everything went okay and nothing terrible happened! My staff rocked it, and we made it through. From that day on, I've learned to trust in Heim's key people more. Also, I've learned to trust in myself that the time I spent training and motivating our team was well spent.
Who have you looked to for advice and mentorship?
This is going to sound so cliché, but I look to my husband. He's one of the wisest people I have ever known. He understands this industry better than anyone I've met, and I am so grateful to always have him by my side.
What does it mean to you to be a woman in small business?
I enjoy having a small business, but what I really love is being a woman in the Texas barbecue industry. There aren't many of us! I feel like I'm able to make my mark on an industry that's traditionally male influenced by putting my own unique touches to it, while also keeping the integrity of the craft. I'm able to change things here and there, like the design of a restaurant or the kindness of server, cashier and bartender. These little interactions are important, just like I believe that the tile on our bathroom walls are important. It may seem minuscule, but these touches create a better and more comfortable experience for our guests. I feel like the changes that we've created in the barbecue industry are now shifting to overall industry traditions, and that's something I'm really proud of.
What is it like to work together as husband and wife team?
I get this question a lot, since it's a little unusual to see a husband and wife working together. We obviously live together, work together and spend downtime with each other. But, we're having the time of our lives. We celebrate the victories and learn from the hard times. We're literally living out our dream together, and Travis is the person I was made to be with. We completely trust in each other—not only in our personal lives, but in our professional lives as well. Who better to trust my business and wellbeing to than the person that's also my soulmate!
What's next for Heim BBQ?
We just opened our second location two weeks ago, so we'll be spending a lot of time there for now. We'll analyze, correct and support the restaurant as we learn the real 'feel' of the space. That being said, we look at opportunities as they come. We never do anything that doesn't feel right, so we let some opportunities go by. But, we'd love to continue to grow—that could mean another Texas barbecue restaurant, or it could be an entirely new concept that's just been a dream.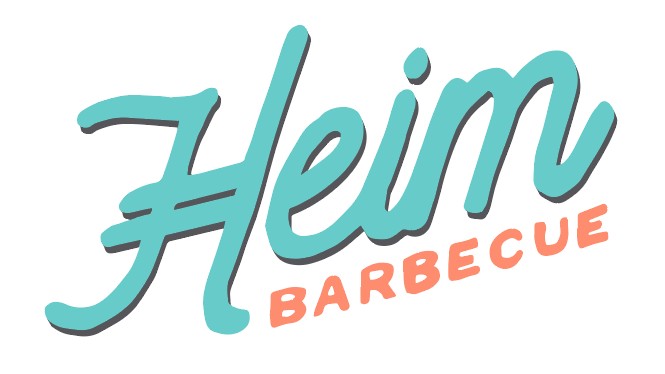 LET'S GET THE SKINNY ON FORT WORTH:
WHAT BROUGHT YOU TO FORT WORTH?
I don't tell many people this, but I moved from California to Texas as a young girl, almost six years old. My dad brought us out to Fort Worth for his job. I'm still so thankful that we moved because it made my life what it is today. I wouldn't have met Travis, and we wouldn't have created this company together.
BEST TACO IN FORT WORTH?
BEST QUESO IN Fort Worth?
FAVORITE MARG IN Fort Worth?
Joe T. Garcia's. For sure.
FAVORITE HAPPY HOUR IN Fort Worth?
FAVORITE WAY TO SPEND A DAY IN FORT WORTH?
A day on the patio by the pool at Joe T. Garcia's.
WHAT DO YOU LOVE ABOUT BEING A BUSINESS OWNER IN FORT WORTH?
Fort Worth really loves us, and I don't say that lightly. They've shown up for us every single day. Weather can be horrible, it could be the super bowl—you name the event, and Fort Worth shows up anyways. I will forever have love for Fort Worth. It's been the perfect place for us to start and nurture our company.
TELL 3 OF YOUR FAVORITE FORT WORTH SMALL BUSINESSES
Swiss Pastry Shop, The Wandering Turquoise and Don Smith Signs.