Female Feature Friday: Angie Moors of FunkyTown Donuts
We are back at it, bringing you another Female Feature Friday. We are so excited to be sharing a new amazing Girl Boss every week. The inspiration behind this series was to highlight the brilliant women running small businesses in an effort to inspire other women to bring their talents to the table. We can do it all, ladies!
If you know me, you know I love my carbs, which is why I am SO excited to share this week's Female Feature - Angie Moors of FunkyTown Donuts! Not only is she a rockstar in creating some amazing donuts, but she knows how to live in the moment and soak it all in. (Don't hate me if this interview makes you run out and get a dozen donuts).
LET'S GET DOWN TO (SMALL) BUSINESS:
Name and Occupation:
Angie Moors - Co-owner/Sales & Marketing Guru.
Briefly describe your business:
FunkyTown Donuts is a family owned bakery dedicated to making handcrafted donuts and providing a great customer service experience. We aim to put a Funky twist on the traditional doughnut and give that good old southern charm. It is our belief that quality ingredients are very important and we make as much from scratch as possible. We also try to be as involved in the community as possible and participate in many local charitable events.
There are a variety of donuts offered daily including yeast and cake donuts, with a rotating list of seasonal glazes. We offer gluten free and vegan options on Wednesday and Sunday. We also provide catering services for large events and weddings, including donut bars.
We use fresh fruit in our glazes and try to bring as much seasonal flavors as possible to our Funky Fresh donuts. Our dough is made from scratch and uses fresh ingredients. We hope that the love we have in our family and passion we have towards providing a quality product will be felt in every bite.
Our Sundance Square location offers craft (draft) beer from local breweries, wine, and espresso based coffee drinks. This location is open until 8pm on the weeknights, and 11pm on Fri/Sat nights. And did you know that you can walk around with beer or wine in Fort Worth? That's right! We sell our beer/wine TO GO!
How did FunkyTown Donuts come about and what were you doing before its creation?
The initial idea came from my husband, Brandon, about 10 years ago. His dad was a police officer for Denton County for many years, and when Brandon was a child, they would often get donuts together - his dad loved a good cake donut! When I met Brandon in 2005, he often wanted to get donuts - it amazed me how much one person could love donuts. After getting married in 2008, he started dreaming of a place that we could get a funky donut - not a traditional donut - and it evolved from there. He often craved donuts late at night and there was not a donut shop around that would be open. After many years of "talk", we came to a crossroad of making a major decision. In 2014, Brandon lost his job and we were left discussing our future. I was working for City Club in Fort Worth at the time so I knew we could live off my salary while he pursued his donut dream. I encouraged him to go after his dream - it was now or never! He landed a part-time job at Central Market Bakery and during this time, he was perfecting his business plan. I surprised him with a small, tabletop fryer so he could begin working on his dough recipe. Since I was in the catering world, I had the great opportunity of working alongside some amazing chefs - what better way to test your dough recipe than to bring it to culinary trained chefs! After several months, we decided it was time to start taking catering orders so we created our website, ordered business cards & brochures, started our social media platforms and I started telling everyone I knew in the catering & events industry about our donuts! We started bringing them to everyone we could think of to help promote our catering options and from there, it just took off! By April of 2015, another hard decision was that Brandon really needed to focus 100% on the business so he put his notice in at Central Market Bakery (they were aware the entire time of his donut venture and was actually one of his first orders!) and hit the ground running on growing our business. After catering out of our house for almost two years, we finally found our first brick & mortar and opened our Near Southside/Medical District location on 8th Ave in May of 2016. In October of 2017, it was time for us to make another hard decision - I needed to move on from my long time career (12 years!) in the catering/wedding & events world, and go full time with Brandon in the donut world. Then, Sundance Square came along - we opened our second location in Sundance Square (FunkyTown Donuts & Drafts) in July 2018. This location offers donuts, draft (craft) beer, wine and espresso based coffee drinks. Donuts & Drafts was the original idea so to see it come to life has been amazing. We often pair beer & donuts, and partner with local breweries - it is a lot of fun! We have some other fun pairing events up our sleeves, so stay tuned!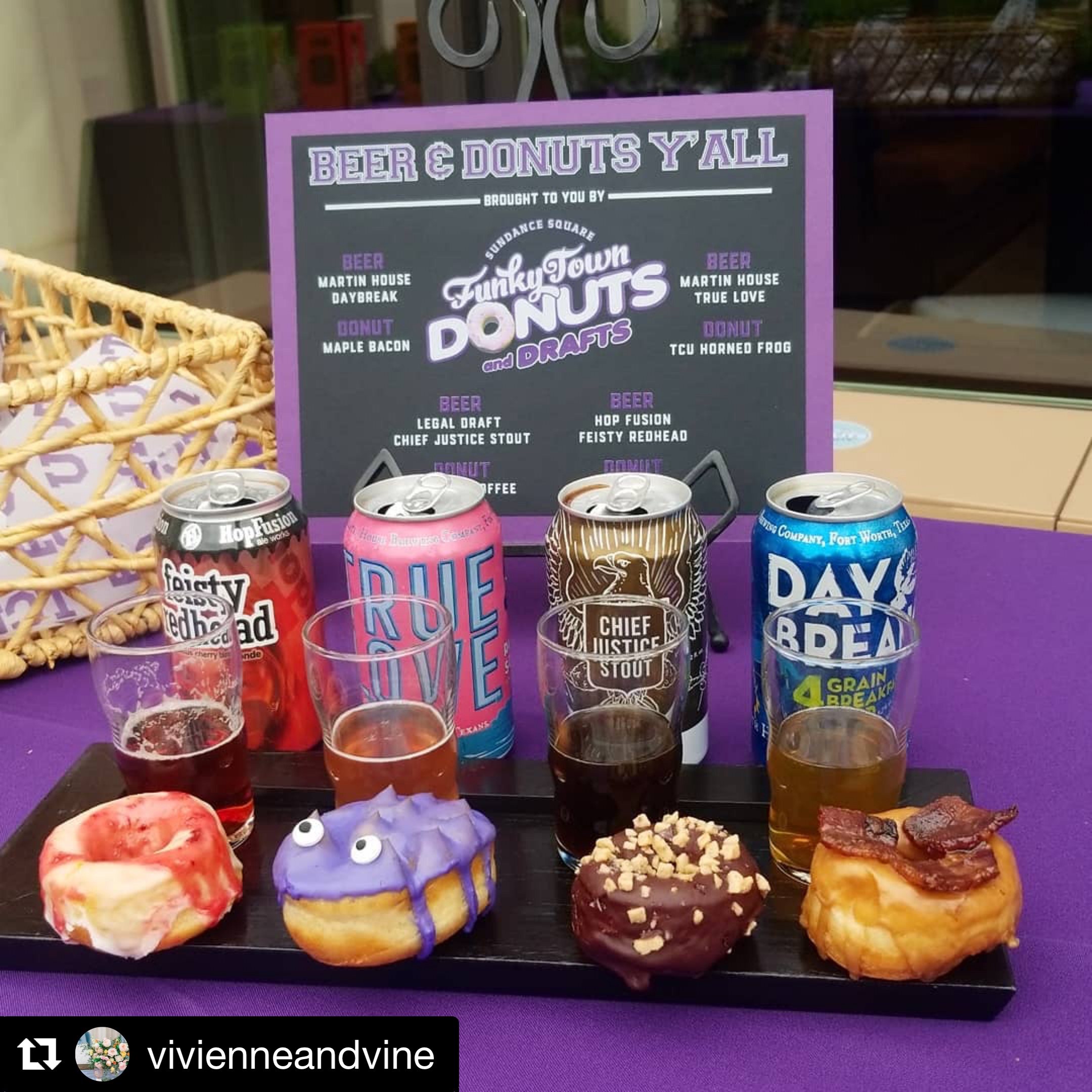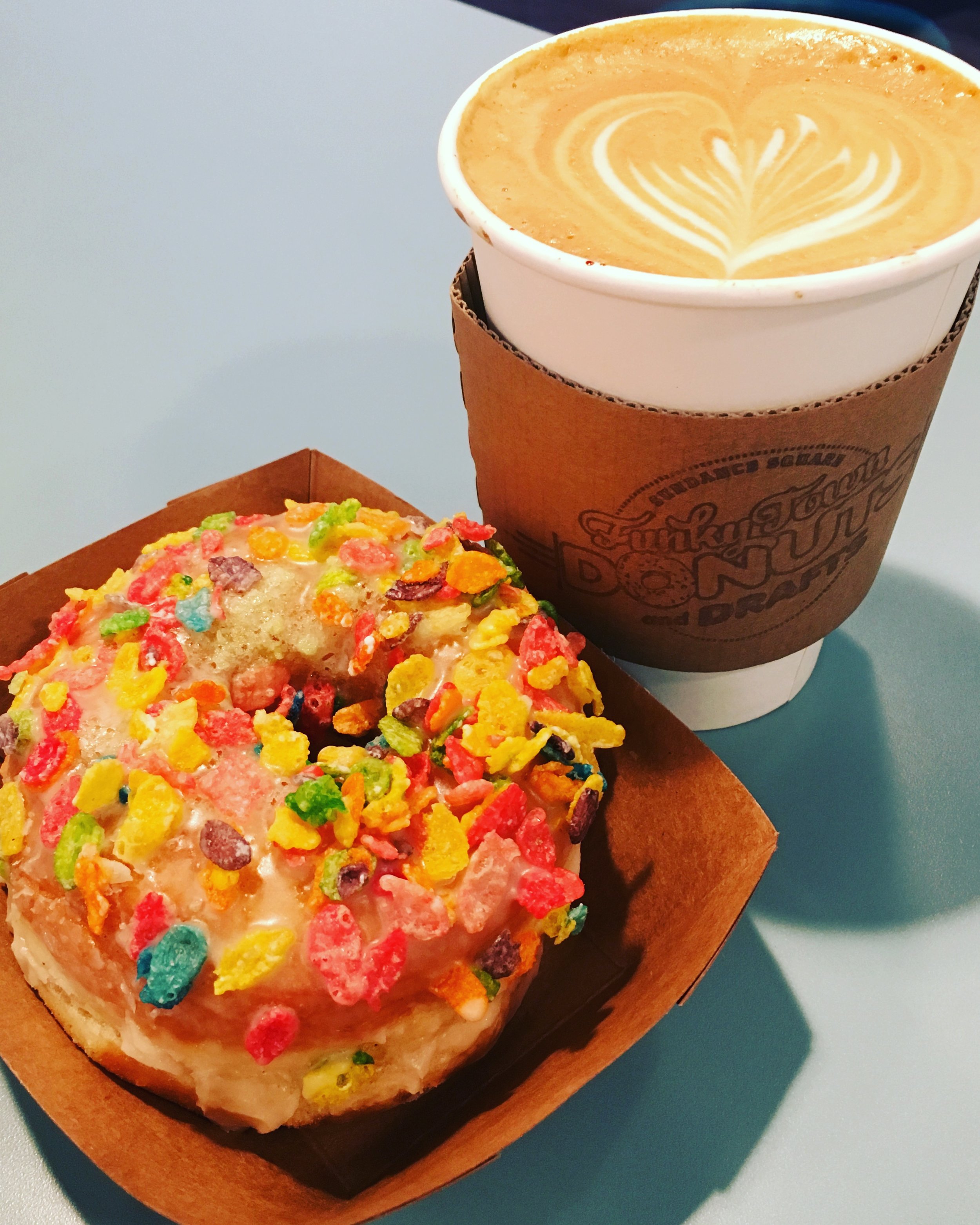 How do you keep coming up with such creative ideas?
Brandon truly is a creative genius! He loves to create flavors that you would not think go well together, but they are so good! It was fun to help him test flavors over and over again until we finally landed with our first menu (this is when we were developing the business plan in 2014). We took it even further and spent an evening thinking of fun, and different/creative names for most of our flavors. There's a lot of meaning behind some of those names - and we love telling our customers all about that! It's definitely a team effort - I will bring an idea to him that I know sounds ridiculous but what I love this is, he will then take it and run with it but making sure it fits within our wheelhouse. He also really loves to refer to his "Flavor Bible" to brainstorm ideas.
Why is small business so important to you?
Being a small business owner is no joke. It's by far the hardest and most stressful job I have ever had but it is also the most rewarding. When you hear from other small business owners that every single dollar means something to them - it is SO true. Literally, every single dollar, every single customer, every single phone call, every single catering order - everything! And, the small business community in Fort Worth is so inspiring - we look up to so many of them. They have been such a huge part of our success - so many of them support each other, and it has been so nice to get to know them and call them friends. We make every effort to support as many small businesses as possible. We are in this together and we need to keep pushing forward, together! It is about our passion, our drive, our grind, our hustle - it's our livelihood. It's all we have and there are days we think - why did we do this? And, then that one customer stops to tell you how much they love your donuts and they tell everyone about you, or their child cannot have gluten or dairy, but because we offer gluten free/vegan donuts, they can now join the "donut day" celebrations at school because of our gluten free/vegan donuts - that is when we remember, this is why.
What was your first real job?
After graduating college, I started working at Vaquero Club in Westlake as a banquet server. It was there that I fell in love with catering, weddings & events. I ended up getting promoted to Banquet Director and handled all of the operations for their catering events for their members. It was fantastic!
What motivates you to keep going on the less than awesome days?
I would have to say my husband and our staff. We honestly have some really great employees and we got lucky that most of them really care about our business, and love working at our shop(s). Hearing them be excited about a new flavor, or telling us they overheard someone talking about FunkyTown Donuts and how amazing it is - they feel proud to work for us. It is truly a wonderful feeling. My husband is my sounding board. We are in this grind together and are both so passionate about what we do. And, I cannot leave out our pups at home - LeeRoy and Harold. I've left work so many times thinking about how stressful the day had been, but then, I start thinking about coming home and seeing those two pups - they love us unconditionally and are so very excited to see us when we get home. It makes everything better.
What advice would you give to someone wanting to start their own business?
If you have a true passion for something - go for it! Do not let anyone tell you otherwise. Do what it takes but literally that means - do anything and everything. You cannot be above working the hours, grinding day by day, all day long. It is HARD and you will feel like a failure many times or that you are letting people down, but you have to push through it all and keep going. You will have people rip your product apart, and you will feel defeated, but you will also have so many people lift you up and you will have so many awesome feelings of accomplishment. Be ready to give up A LOT in your life but know it all pays off in the end. Be ready for a roller coaster ride and know you are not alone!
What's the biggest mistake you've made and what/how did you learn from it?
Not trusting in myself. There are so many times that I have self-doubt and I am my own worst critic. I have learned SO much about myself during this journey and I am still learning but I have to remember that I am not perfect and mistakes will be made but as long as I continue to strive to be the best that I can be, at all times, that it will all be okay.
What has surprised you most about running a small business?
In general, I have been shocked at the number of applicants that "no-show" for interviews. I just do not get it! If you schedule an interview, show up! And, if you cannot make it for whatever reason, just let us know. It's crazy how much that happens - I never experienced this in my catering career so that was definitely shocking to me.
Who have you looked to for advice and mentorship?
There's definitely a few! Other small business owners that have been so great are Kari & Mark with Melt Ice Creams, Emma & Travis with Heim BBQ, Stephanie & Jeff Brannon with Dwell Coffee & Biscuits, and Kimberly Rhodes with Hitched-Events. Our close friends, Meghan & Shawn (who by the way were our "first employees"!), and of course, our family!
What does it mean to you to be a woman in small business?
It is so inspiring to know so many other women in business. I feel it is growing more and more. I think it can be hard in general, especially in the food industry where men were the leaders for so long. But, I think it is powerful - I looked up to my mom so much. She has not always been a small business owner but she was always in a position of power. She put herself through college while raising three kids, and she worked her way up the ladder all while continuing her education and certifications. I always joke that she has so many "letters" next to her name. She is and has always been a powerful woman, and I look up to her in so many ways, as I do with so many women in small business.
What's next for Funky Town Donuts?
This is a joke between Brandon & I… he is the dreamer and I am the realist. You ask Brandon this question and he is on shop 10. You ask me this question… I am living in the moment and taking it day by day! I think there is definitely more to come and we have a lot of great opportunities coming our way, so many ideas we are working on, but all I can say for now is… stay tuned Funky Town!
LET'S GET THE SKINNY ON FORT WORTH:
WHAT BROUGHT YOU TO FORT WORTH?
I am originally from the midwest but moved to Ponder, TX while in high school. I ended up going back to the midwest for college and of course moved back to Texas after graduation. I met Brandon the year I returned from college who had lived most of his life in Denton. Due to the lack of job opportunities in Denton, in the catering/events industry at that time, we decided it would be best to move towards Fort Worth. I was commuting this way so much for work - it just made sense. So, I convinced him to leave Denton and we have lived in Fort Worth for about 10 years now!
BEST TACO IN FORT WORTH?
So much pressure! I cannot have just one favorite. Here's a few of my favs (not in any particular order): Mariposa's, Salsa Limon, Taco Heads, Revolver Taco Lounge (before it closed in Fort Worth).
BEST QUESO IN FORT WORTH?
This is hard! I love queso in general - ha! If I have to choose one that I enjoy often, I would say Torchy's queso.
FAVORITE MARG IN FORT WORTH?
I love the jalapeño margarita at Taco Heads!
FAVORITE STEAKHOUSE IN FORT WORTH?
Love Bonnell's!
FAVORITE WAY TO SPEND A DAY IN FORT WORTH?
It depends on the weather and if there's anything going on in Fort Worth but we love festivals, listening to great music on a patio, sitting by the fire pit at Winslow's Wine Cafe, grabbing a glass of wine at Kent & Co, eating a full course meal (this means: multiple apps, a soup or salad, a main, and dessert!) - even better if it is paired with wine! Going to the dog park with our pups, spending time with friends & family, walking along the Trinity River, taking in the sunset, visiting a local brewery (we love them all), grabbing the best charcuterie board around - Meyer & Sage.
WHAT DO YOU LOVE ABOUT BEING A BUSINESS OWNER IN FORT WORTH?
The food scene is booming in Fort Worth. It is incredible to see so many small businesses opening but for us, because we are a food product, seeing so many fun eateries popping up! We love the culture here, we love that we are a large city but feel so small, we love that when we go to the grocery store we are bound to know someone, we love to see our friends that are also small business owners thrive and win local awards, we love being a small part of such a huge visitors area, we love chatting with our customers and getting to know them, we love to hear customers say "we remember ordering from you when you catered out of your house and have been a loyal customer ever sense!" We love our City and cannot wait to see it continue to grow!
TELL US 3 OF YOUR FAVORITE FORT WORTH SMALL BUSINESSES.
I am going to say several because it is hard to limit this to three! Breweries: Martin House, Panther Island and Hop Fusion. Food: Bonnell's, Vickery Cafe, Cat City Grill, Ellerbe's, Heim BBQ, Panther City BBQ, Flores BBQ, Dayne's BBQ, Winslow's Wine Cafe, Taco Heads, Melt Ice Creams, Clay Pigeon, Piattello, Shinjuku Station, Cannon Chinese - and so much more! I know I am missing some but we love food, and there are so many great places to eat! Shopping: Gifted, Fort Worth Locals, Winton & Waits, Morgan Mercantile, W Durable Goods. I have heard great things about Four Sisters and Supper Club at Magdalena's - we are making time for both soon!
Want more #GIRLBOSS inspiration?